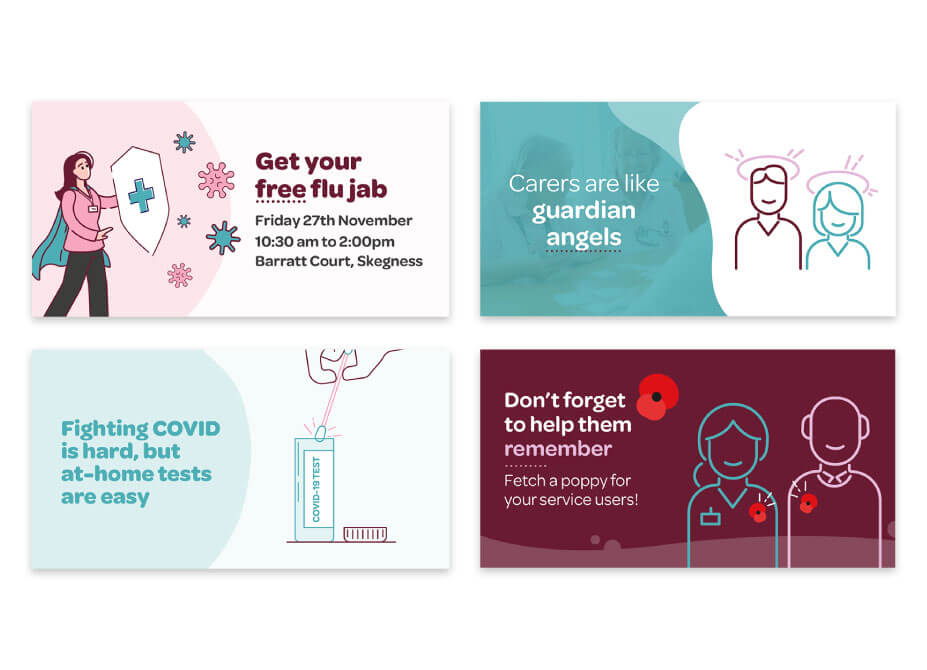 The mission
.
Making a difference in care
The mission for Walnut Care is simple – to provide high-quality compassionate care in people's homes - helping many to stay in their home in the later years of their life.
Walnut Care takes the time to get to know its service users. They create care plans that are specific to people's wants and needs. They understand that as we all get older, we want different things and many people want to remain in their homes. Their mantra is independence, not dependence.
We helped Walnut Care to promote the work they do in the community by storytelling and raising awareness of issues affecting older people. This approach has helped Walnut Care to become a trusted and go-to service provider in Lincolnshire.
The campaign
.
Mini campaigns championing important issues
We have designed and delivered a range of targeted campaigns to showcase Walnut Care as a care provider who cares. We raise awareness of important issues like loneliness, flu and cold protection, trips and falls and healthy eating. We use digital marketing and advertising to help Walnut Care build connections with people and communities - from clients and family members to staff and stakeholders.
We also helped Walnut Care promote caring as a profession. Every few months we launched targeted recruitment campaigns in areas where there was a shortage of care staff.
Dedicated PR service
A voice for the care sector
We helped Walnut Care to amplify their voice and communicate key messages about their work and the importance of the care sector in our community by pitching in ideas and positive stories to the media and reacting to news events, ensuring the voice of the client and the sector is heard loud and far.
Fans, not followers
Social Media management
Managing your social media activity can be time-intensive. Not for Walnut Care because we are using years of experience in social media management to create engaging content and conversation. For us, it's important that the people who follow Walnut Care are in regular contact and become fans, not followers.