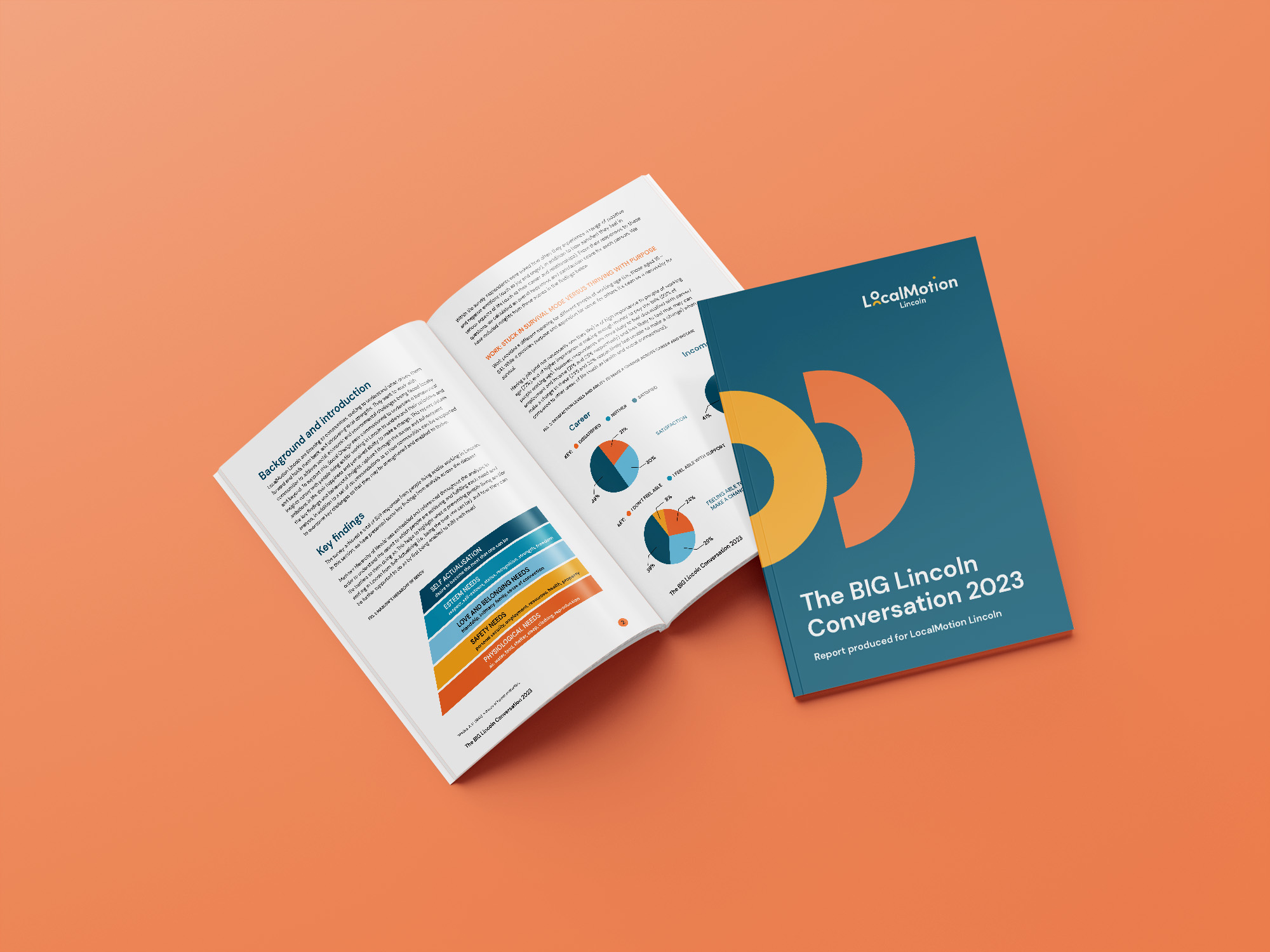 The mission.
What does happiness look and feel like?
Different people care about different things. This research set out  to understand happiness and listen to people's experiences of living and/or working in Lincoln, exploring their goals and priorities and the key challenges they face in everyday life.
The research is part of an ongoing project in the city to assess and address local social, economic and environmental challenges and how people can be supported to ensure communities in Lincoln thrive.
The research.
Engaging the local community
We created a unique survey to share with the community locally that asked direct questions about what matters most to them to allow us to understand what is important to people at different stages of their lives. 839 people took part over 4 weeks.
The key insight from this research was that a lot of people are 'getting by' and 'surviving' and do not have the capacity to engage in activities that are likely to fulfil their need for purpose and happiness. The only opportunity seems to be when people turn 65 - and then time is limited.
What we discovered.
Work - many people are stuck in a 'survival mode' and not thriving with a sense of purpose. Some people view work as a source of purpose and aspiration, with few achieving this, whilst others see it as a necessity for survival and living without purpose in work.
Being financially stable is the main reason people get out of bed every day, but for many, it is also one of their greatest challenges in life. A lack of financial freedom leaves little room for them to do what they enjoy. One respondent described this as 'existing rather than living.'
Core priorities remain unchanged – health, family and happiness remain of high importance across the lifespan of a person's life.
The role of family changes over a person's lifetime, and their needs change as a result. Love and belonging are in greatest need both during young adulthood (16 -34) and later in life (65 and above). Between this, however, family are regarded as a 'Safety Need', as the connection becomes secondary to ensuring their survival.
National crises are putting needs at risk – the economic crisis, NHS crisis, environment & climate change and the political climate are both concerning and impacting people. For example, their financial stability, health, essential services, etc, are all in doubt, causing anxiety.
Happiness and satisfaction are less in younger adults (16 – 24), who are among the least satisfied with life, and happiness levels after going up in your late 20's slump again at 45 – 54, where people talk about challenges to keep positive and motivated. Both happiness and satisfaction peak at around 65, which interestingly links with the retirement age.
Behavioural insights
I need to focus on survival – all people's focus is on getting through national crises and getting by. This leaves little room to look towards fulfilling other needs

I want my life to be meaningful – people want to make a difference and be purpose, but there's a lack of opportunity for them to do so

Perspective changes everything – older adults begin seeing life as 'scarce' and so are more motivated to embrace each day. They also have more freedom to pursue their needs
The impact.
We produced a summary report and produced a short animation to help communicate the findings and behavioural insights from this piece of research. The next stage is to use these insights to influence local decision-making and empower and facilitate change locally that will positively benefit people and contribute to people's happiness and wellbeing.
4
behavioural frameworks applied
5
recommendations provided from audience insights